It's not easy to take care of such a majestic animal. As horse owners, especially those who are new to it, horse injuries are something we all dread, therefore it is vital to understand what actions to take! The first step to taking good care of your four-legged friend is by giving them a safe and comfortable environment to live in. Internal stables, luscious pastures, and a quality care routine will more than adequately secure their well-being, however, accidents and illness are something all horse lovers will unfortunately face. We're sharing some top advice on how you can approach such situations in the best way for your horse!
Here are 11 things you should know before treating horse injuries for the first time:
Having a first aid kit is very important as your go-to at a time of injury. You can construct it as guided by the vet. Sterile saline solution and gauzes are imperative. Apart from that, you should keep tools such as scissors, large syringes, and tweezers. A regular timely visit to the vet as scheduled by them is also very important to the best possible care of the horse.
Vaccinations are a vital part of owning any pet. Getting your horse, a tetanus vaccination twice a year is the best option. This preventive measure is the best approach to illness avoidance.
Use a sterile saline solution and always have your first aid kit on hand. Clean the wound thoroughly to avoid infection. In a case where you don't have a saline solution, use water to clean out the wound by letting it run down the wound and wash out the bacteria.
It is paramount to make sure your internal stable is safe for your horse to dwell in and doesn't pose any harm of injuries whilst moving around and bedding down. If a wound is bleeding a lot, try to stop it by a clean towel or sterile gauze pad. When it has stopped bleeding, you can then clean it will saline solution.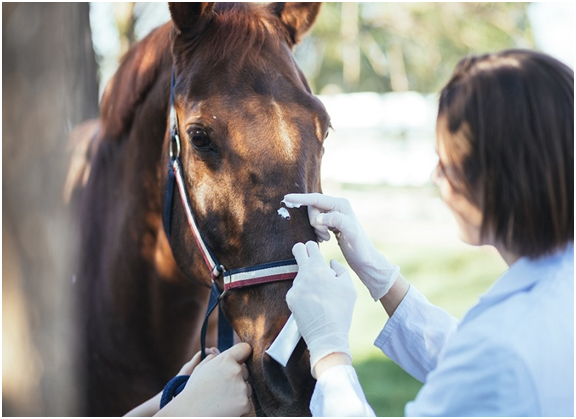 These are very serious wounds and can result in excessive bleeding. The wound can be very dangerous if it's in the chest or stomach area, as it may have damaged the internal organs. You will have to contact a vet as soon as possible. If the wound is very deep don't disturb it, leave it the vet and till the vet comes, try to control the bleeding.
Understanding that your horse needs a lot of rest after an injury in a comfortable internal stable is very important. In the case of abrasions, you shouldn't disturb the wound much except for cleaning and applying ointment.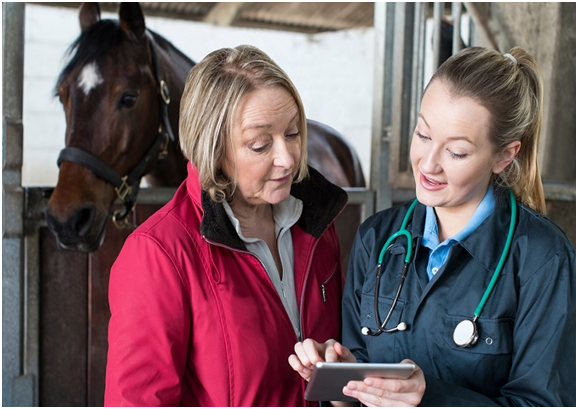 Please contact the vet before medicating your horse with any kind of drug including antibiotics. If prescribed, you can use it to avoid infection. They may look like small wounds, but they can also prove to be fatal, so clean and aid them properly.
There may be a chance of your horse completely tearing apart their skin if they fall badly or awkwardly. In such a situation, the veterinary procedure of stitching is likely to be required.
Your horse may need x-rays and other tests when suffering from a joint injury to understand the extent of the damage. Your vet will guide you on the actions to take but resting your horse and ensuring they are in a calm and comfortable environment is very important to prevent further trauma. CBD also helps in recovery from physical impairments. Check theyucatantimes for more information on this.
Horses can develop serious digestive problems that need to be prevented and taken care of. You will be able to figure out when your horse is not well as they may get restless, grind teeth, repeated kicking, and generally quieter than usual. Colic should be monitored, certain types can resolve themselves but if symptoms last longer than 30 minutes, it is recommended to call your vet.
Be their Companion:
At the time of injuries, the loneliness might really depress them. Try to spend more time with them in the internal stables and comfort them. Your horse is the best listener, share your thoughts, and make them feel loved at the same time!
It's certainly not easy taking care of a horse, but it is 100% worth it!
Author Bio
Emily Davis works at Cheval Liberte as a community manager. Cheval Liberté has been designing, developing, and producing stalls, temporary stables, and stable equipment since 1995, Driven by their passion for horses, Cheval Liberté was founded by both riders and breeders and since 2005 this passion has been implemented in the UK, with our North Wales company being the sole importers of Cheval Liberté products for distribution and erection throughout the UK & Ireland.