Weddings continue to evolve with the tastes and attitudes of the times. Find out nine modern elements to include in your wedding here.
If you have a knack for contemporary things, adding modern elements to your wedding will make sure everything is fresh and trendy, which reflects who you are. Clean lines, overflow of fresh greenery, and refurbished vintage décor are just a few tricks that can transform any event into a modern treat.
If you're looking for tips on how to enhance your wedding event, here are twelve ideas on modern elements that will blow off your mind.
A Mismatched Bridal Party
A wedding trend that doesn't look like it's going anywhere anytime soon is different and chic bridesmaid dresses. This feature adds a fun, whimsical element, especially in your wedding photos and on your big day in general.
Whether you prompt your bridesmaids with the specific design/color/style, or you let them pick the dresses for themselves, the result could be something colorful and playful.
Go For All White Everything
Sticking with all white is one of the most classic modern elements of design technique that never gets old. You can stick to all-white, whether it's in your tablescape décor, florals, ceremony backdrops, or reception.
An all-white palette helps to bring the spotlight to other details of your wedding. This works perfectly with your tablescape that includes glassware, linens, and centerpieces. If you still feel the need to break the white monotony a little, consider fresh greenery, which works in all seasons.
Choose a Venue with a Modern Feel
This is an undeniably great way to bring out the contemporary feel of your wedding. When you choose a venue that has already embraced an updated style, it will save you the trouble of needing to add too many modern elements to bring a contemporary vision to life.
This can be a simple space with heightened ceilings, clean lines, and refined feel. Consider the design of your wedding venue before finalizing on your aesthetic to be sure both your venue and vision blend to meet your expectations.
Come Up with a Set of Keywords for Your Planner
One of the easiest ways to stay on your modern elements theme design is to come up with a set of detailed design-oriented words. A good example of the best modern wedding keywords are clean, geometric, and simplicity.
Try to set these buzzwords during your planning to help you focus on choosing the right essentials for your event. You can make it a lot easier for your wedding planner because they will know exactly what your direction and expectation are for the final results.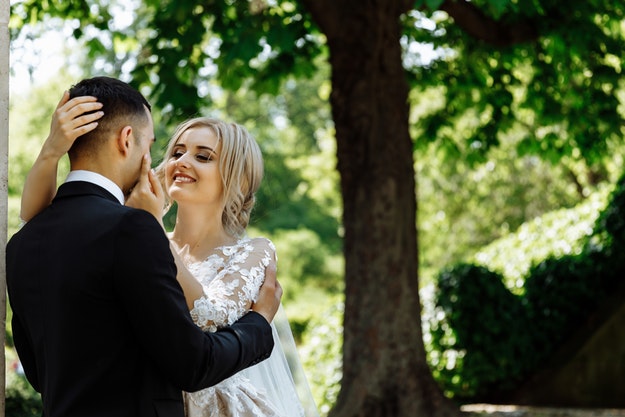 Add Black Accents
Black is the perfect color for a contemporary wedding. It screams chic, sophisticated, fashion-forward at the same time.
The hue will help in creating character and depth to your designs. Whether it's adding a small touch of color to your menu's outline or adorning an entire placemat, black remains the shade that always brings elegance, dramatics, and class.
Choose Eco-Friendly Options
Just because it's your big day doesn't mean you have to forget about saving the Earth. In fact, more people are planning events using different themes, decorations, utensils, etc. that are environmentally conscious and beneficial.
There are plenty of ways to plan an eco-friendly wedding if this is the route you want to take. You can start by decreasing the amount of plastic and non-recyclable materials for the occasion. Also, consider shopping at bridal shops and wedding boutiques in general that support Earth-conscious sourcing.
Use Unique Stationery Designs
The easiest and best way to set the tone of your big day is by adding modern elements to your invitations. Since this is the first thing that people see about, invitations are a big part of your wedding theme.
For a contemporary event, the bold text matched with minimal design will give you a simple, fresh, and classic design for your stationery. Play around with different typography combinations and choose compatible colors.
Opt for Greenery Instead of Floral
Creating your centerpieces with an overflow of greenery is one of the best contemporary wedding ideas for enhancing modern elements. For your special occasion, consider using leaves, green foliage, vines, and another lush.
However, if you're still inclined to floral, and still want it into your table design, you can have each arrangement vary in height. This will create many levels of centerpieces. Adding greenery creates a refreshing overall feel.
Place Various Sized Candles Around
Candles bring the essence of modern romance and intimacy, which is perfect for you and your guests. They also add an element of sacredness to such a beautiful and important ceremony.
Use glass votives and pillar candles of different heights, to give your candlelight plenty of diversity and dimension. You can even add in taper candles and other shapes to give an artistic effect.
Keep It Simple
When planning your wedding, work towards simplifying every detail during the setup. The best shots of modern elements in weddings are those that are clean, minimal, and classic looking.
Try to keep things spacious and simple for heightened sophistication.
Pay Attention to Your Menu
Weddings menus are a reflection of a family tradition that includes meals that guests prefer for the day. However, many people have adopted different styles of living that directly affect their diets.
Be sure to consider different dietary restrictions and preferences. Ask guests about allergies and research food trends. Put effort into curating a menu that combines tradition and innovation.
Also, don't forget about your cake. Make sure you stay consistent with the contemporary theme by selecting cake elements that are elegant and playful yet up-to-date.
Consult with a baker and chef to help you create the perfect modern dining experience for your wedding.
Plan Your Wedding with Modern Elements
If you're currently planning your wedding or helping someone else to plan theirs, consider using modern elements to create a contemporary feel. Check out some of the tips listed to help you simplify the planning process without losing your direction.
Keeping it simple is always a good plan if all else fails. For more tips and advice, check out our lifestyle section of the blog.