Thinking about a medical coding career? Learn how to get started with these suggestions that can make it easier to embark on your journey.
Thinking about a medical coding career? Then you've chosen a path with a growth trajectory.
According to the U.S. Bureau of Labor Statistics, employment in medical billing and coding careers, which falls under health information technicians, is expected to grow 13 percent between 2016 and 2026.
This means jobs for medical billing and coding are growing quicker on average compared with all jobs. And with our aging population needing ever more healthcare, this trend is likely to continue.
But what does it take to get hired as a medical coder, you ask? And what is the best way to make that happen?
To help you embark on your path, we've put together 10 tips to a medical coding career. Keep reading on how to make your journey easier, then get started on the road to getting the job you want.
1. Get Intel on Requirements for Entry-Level Medical Coding Jobs
Take a look at job sites to see what your ideal employers are looking for in applicants for entry-level jobs. Ask a medical coder what she or he did to get the job.
Most likely, you'll find that you can get an entry-level job with a high school diploma. You'll also find that getting an associates degree in medical coding can make you stand out in the job applicant crowd.
You're likely to see that you can get certified as a coder by passing the Certified Professional Coder (CPC) exam. You don't need this certification to get hired, but it'd be a huge plus when going for your first job.
2. Find a Great Medical Coding School
If you can get an associate degree in medical coding, you'll be ahead of the game in the job market and once you get hired! You'll be prepared to jump in on the job quickly as you'll already have trained in most tasks and have the skills in your back pocket. All you'll have to learn are the nuances specific to your new office.
A professional program n medical coding should teach you medical billing terminology, how to interpret medical terms into codes, how medical insurance works, and relevant software/apps. It'll also prep you for the CPC exam and job search.
Overall, you can expect to be completely hire-able when you finish. Check out Ultimate Medical Academy for a school that checks all the boxes. Plus, it's online so you can get going now.
3. Sign Up for the Program Now
As soon as you find that great school, complete your application so you can get started as soon as you're ready. Also, you're enthusiastic now and don't want to procrastinate. Once you get it in, it's in.
And once you get accepted to the program, go ahead and sign up for at least one course.
4. Go at a Comfortable Pace
It's a good idea to always take at least one course if you can so you're always moving forward. This is great for motivation.
But don't overload yourself with too many classes. Not only can you burn out, but if you're too busy and stressed, it's harder to learn and retain the information.
5. Practice Balance in Your Life and Good Study Habits
Strive for balance in your life. This means to study hard, but also, work, play, and rest!
If you have to work while you go to school, don't overload on classes all at once. Spread them out. Make sure you have enough study time built into your week at an hour when you're alert.
Add a sport or other athletic activity into your week. Eat fresh foods, drink plenty of water, and get enough sleep. These things sound basic but they actually help boost brain power so you can focus and learn effectively.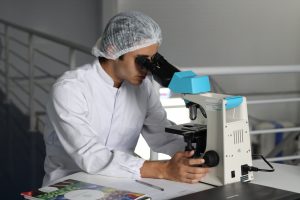 6. Take Advantage of CPC Prep and Tutoring at School
A school like Ultimate Medical Academy knows how much the CPC can help you land that job and feel good when you start your job because you already know most of what you're doing.
Always ask for what you need. There are no stupid questions so ask them all. That's what teachers, TAs, tutors, and other students are there for.
7. Get Some Real-Life Experience
You don't have to do this but if you can get an internship in a medical office of any kind, you'll start learning about your new world. And if you can get an internship or even a job already in the billing and coding department/s, even better.
You'll not only learn skills but get to know other employees, which could help in landing a job in the future.
There are also clinical shadowing options for "pre-health" students. This is when you shadow someone in your field of choice. It's a great opportunity for soon-to-be healthcare professionals.
There are even shadowing options abroad that can give you all kinds of fabulous life experiences in the field and for yourself!
8. Look Around for Scholarships for Healthcare Career Education
There are local and other scholarships for healthcare education so be sure to look into what's available if you can use it.
Also, if you get hired while at school or are already in a job that involves medical coding, you can ask your company if they'll help you pay for your education. Many firms do this because the knowledge and skills you get benefit them.
Getting any kind of financial help if you need it, always is a relief. It helps you be less stressed. Plus, it can help balance your schedule if the help means you don't need to work as many hours.
9. Prepare For and Take the CPC
Again, the CPC isn't necessary for you to get a medical coding job. But it can help you.
Be sure to pay attention to test prep at school and ask for help and tutoring as needed.
10. Take Advantage of Career Counseling at Your School
If it's a good program, you'll get teachers, counselors, tutors, and peers that can guide you in your job hunt. Even if they can't introduce you, they can lead you in the right direction when approaching companies for a job.
They can give advice on where to look for ideal jobs and then give you guidance along the application way.
Get Started on Your Medical Coding Career
Now, that you know how easy and doable it is to embark on a medical coding career, you're ready to take your first steps. We suggest you start by reaching out to that medical coding course, sign up, and start learning online with trusted professional instructors so you get what you need to pass the coding test and course and prepare wisely for your entry-level coding job.
Then, check out the education section of our blog for all kinds of tips and hacks to learning, college, and starting out on your career path.