Sterling silver is the perfect metal for day to day wear! Shining silver rings add a gorgeous cool-toned hint to every ensemble, no matter where it might be that you're heading off to. Shopping for jewelry can quickly become a bit of a muddle, with so many different options, styles, and metals out there, it becomes hard to decipher which is going to be the right choice for you. Well, this information is going to make that decision a little easier, not to worry! Here is why sterling silver rings should be at the top of everyone's jewelry wish list…
Durability
Sterling silver is loved for its durability, making it absolutely ideal for crafting rings out of. The nature of rings puts them front and center for a lot of daily wear and tear, so you want to be sure that your ring's metal is as strong and long-lasting as possible in order for it to stand the test of time. Sterling silver is not layered, filled, or coated, meaning it's well equipped to tough it out for day to day wear!
Quality
You can find such high-quality sterling silver pretty widely, making it fantastic for investing in without having to spend an arm and a leg. Other precious or rarer metals tend to be far more expensive. Sterling silver rings give you the opportunity to find yourself beautifully designed, unique, high-quality styles, without the ridiculous price tag. Stunning jewelry doesn't have to break your budget.
Comfort
A ring should be comfortable as well as beautiful. The smooth, slick surface of a sterling silver ring is going to be lovely and easy to wear all day and night long. Comfort is something that we often forget about when ring shopping, but it becomes glaringly important once we've got a style that's painful to wear on our finger!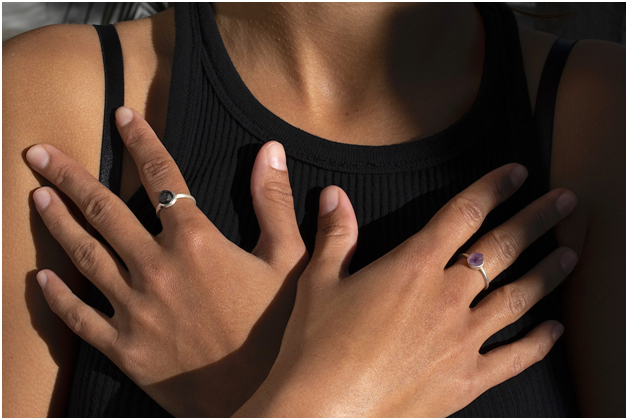 Image source: Lassanai NYC
Versatility
Sterling silver rings go with absolutely everything! Unlike other metals (think gold, rose gold, and copper), silver's undertone can be mixed and matched with anything that you like! It blends perfectly with all manner of different tones, materials, and metals – making sterling silver rings ideal layering pieces. This is particularly great if you're into more of a maximalist, eclectic look. Silver also makes the best base for creatively colorful gemstones! Gemstones are known for their bright hues and interesting, organic shape, and sterling silver makes the perfect simple backdrop to any beautiful bold stone you might have fallen for! The versatility and adaptability of sterling silver rings are the strongest cases for why they're amazing for everyday wear.
Timelessness
The elegant shine of silver will never, ever go out of style. Investing in classic jewelry that you love will mean that you're purchasing pieces that you're going to treasure for many, many years to come! Lots of metals are subject to trends and they often go in and out of style but rest assured, not sterling silver!
Cost
As touched on above, solid sterling silver is often a less expensive (but equally as striking) substitute to alternative metals. Gold, rose gold, white gold, and platinum all come with a hefty price tag and are often silver pieces that have been coated with a thin layer of the more expensive metal. Simplify your choice by opting for a stunning solid metal that's high quality, long-lasting, durable, and timeless!
Responsibility
Ethical sterling silver is kind to the environment and to the people who manufacture it, both of which are incredibly important and are factors that should be high on your selection criteria. Look for ethical sterling silver to make the most responsible, sustainable, and mindful choice. It's cool to be kind!