Every home should have a fire extinguisher. In fact, that's only one piece of the fire safety puzzle. If you're serious about looking after your loved ones you should have a fire safety kit prepared at home.
You can visit reputable fire safety equipment suppliers to get all the equipment you need. That means at least one smoke alarm on every level of your home, a fire blanket, a first aid kit, and, most importantly, a fire escape plan. This is something that needs to be created and everyone in the house needs to be aware of it.
A fire escape plan provides two exits from every room in the house and helps to ensure everyone gets out safely in the event of a fire
Of course, if the fire is small you may feel prepared to tackle it yourself. In this instance, you'll need to know that you have the right fire extinguisher for the job.
Powder Extinguishers
These are generally the best type of extinguishers to keep at home. Inside the extinguishers is a dry chemical powder that's been compacted and pressurized, allowing it to be expelled at high speed from the nozzle.
The Dry Chemical Powder (DCP) extinguishers are the most versatile. They are designed to fight fires in categories A, B, and E. The powder acts like a smothering agent, covering the fire and preventing it from getting the oxygen it needs.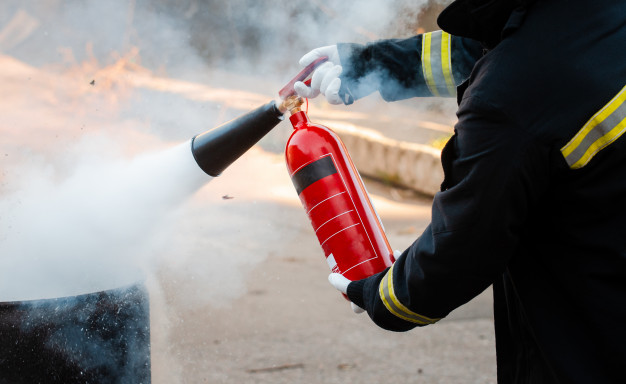 The problem with many home fires is that they are electrical or liquid-based. Adding water to an electrical fire creates a powerful and potentially deadly electrically conductive fire.
Equally, water on oil fires causes them to flame hotter. Fortunately, powder simply smothers these types of fires and extinguishes them.
That's why the powder extinguisher is generally the best.
Positioning A Fire Extinguisher
It's best to place at least one fire extinguisher on each floor of your home. They should be easy to reach. But, you should also consider where a fire is most likely to start and which direction you'll be coming from. This will allow you to choose additional locations that will ensure you have an extinguisher handy when you need one.
You should remember that fire extinguishers are designed to tackle small blazes, you should never put your life in danger. Any fire that you feel is too big for you to handle should be left and the fire services called as soon as possible.
How Many Extinguishers Do You Need?
We've established it's best to have at least one on every floor of your home. It's worth spending a moment considering the right size of fire extinguisher to purchase. In general, you should go for one that is between 1kg and 2.5kg. These are light enough to lift and use but compact enough to carry with you and do some serious damage to the fire.
Another good reason for making this choice is that a powder extinguisher is not toxic and is less likely to damage your home further.