The naturally tall women are fortunate. Tall looks complement the body's elegance. One choice for looking tall is to wear heels. Heels are a good option because they make you look tall and because they are available in different patterns, design styles, and colors that can complement several outfits. And, some heels go well with a particular company or choice. For example, Ladies who want to do Salsa dance consider their Salsa dress complemented by red high heels or stiletto heels. 
Well, there are more benefits than just styling outfits, with heels. 
You can look Taller as much as you want
A boost to your height is one of the most apparent advantages you get by wearing some classic red high heels. High heels come in several sizes, so you can change as much as you like and be comfortable with your height. Not only can you look taller in general, but your legs would also look much longer in particular.
Boost your confidence
Although heels can alter the wearer's appearance, maybe one of the essential advantages people experience when wearing heels is confidence-boosting. Being taller, mainly if you are naturally petite or around other people who are much taller than yourself, may make you feel smarter. In several cases, heels can also be worn to take this confidence and can be taken to all facets of the day, both at work and during leisure activities.
Healthy Posture for the Body 
Women get a sense of good posture after wearing good red high heels. Heels help to bring out a cute pose in the body. They also contribute to the woman's confidence when holding herself. The exception to this is the woman who wears heels very occasionally. If they wear high heels for the first time, some women can become uncomfortable. But If you buy a pair of shoes with high heels, you can practice walking with them at home. When you finally go out, this will help to prevent potential awkwardness.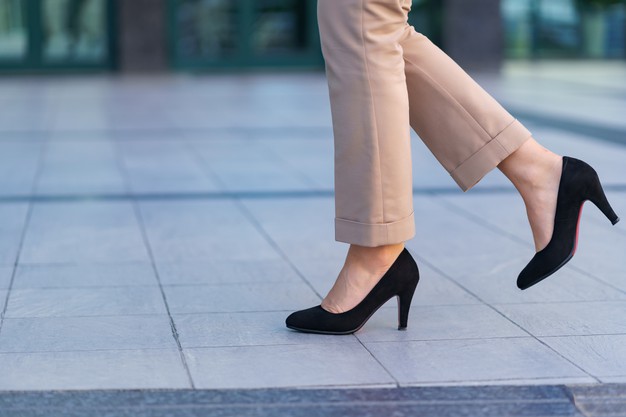 Muscles of the Legs 
Not only the waist looks slimmer, but other areas of the body do the same. The legs, as you would expect, are significantly affected. For the adjustment offered by the heeled shoes, the calves will compensate. This tightening of the calves will lead to less fat and more muscle in that section of the legs in the long run.
Supplementary to Clothing 
Heels complement the appeal of the clothing. Boxes or conical shoes fit the business attire well. The minis or tunics look more striking with pencil heels. A cool look can be given by wearing platform heels with trousers or wide bottom jeans. If you don't want your heels to be shown off but look tall, wear them with saris or long skirts. Each type of clothing can be paired up with a specific kind of heels. This also goes with the colors of heels. The black/ red high heels are certainly part of the wardrobe of every woman. It is because they can be paired with several outfits and a Slimmer appearance.
Wearing a pair of heels will make the body look slimmer. When you put on a high-heeled shoe, the body responds by arching the back to balance. This takes both the backside and the chest out. It gives the illusion of a smaller waist and slimmer, longer legs all together!
So it is true that wearing red high heels will undoubtedly have some advantages. These benefits will be overall for both your body and yourself. You have to proceed if you like wearing high heeled shoes. However, it is essential to note that heels, particularly those over 4 inches tall, can also have adverse effects on your body. They not only cause acute pain but can also be dangerous in the long term, causing problems such as hammertoes, bunions, corn, arch problems, and immense pressure on the feet.
Any woman who wears red high heels often knows she is making you walk differently. Your sides are swaying a little more, your hair is flowing behind you in the breeze, and you are displaying the essence of womanly pride. There is an explanation of why you do not usually see women in flats on the runway.