If you've never gardened before or you feel you need to go back to basics, there are a few key things to know to help you succeed. Gardening can be a very enjoyable and rewarding hobby, however, it's always better to know a few basic rules in order to make sure you're doing things the best way. From investing in the right tools to the initial projects to undertake, here are our top 5 gardening tips for you.
1. Follow the Sun
The sun is your best friend when it comes to gardening, whether you're working directly from your garden or you're utilizing a greenhouse in an allotment. It's important to follow the sun and try to position your gardening set up in a location that will get plenty of sunlight throughout the day. You don't want your plot to be positioned in the shadiest part of the garden, as you'll struggle to get any sunlight shining down and helping your plants grow.
2. Invest in Quality
It's very easy to start a new hobby and go mad purchasing every product under the sun to help get you started, but this can often be a waste of your money. When it comes to gardening, you want to invest in quality tools that you know are going to see you through. For example, select the top 5 tools you think you'll need to carry out your everyday gardening tasks, such as a trowel, and look for a middle-range solution, nothing too expensive but nothing so cheap you can't rely on the quality of it. If you're unsure as to which tools are going to be best for you, there are loads of useful articles breaking down the best gardening products to invest your money in, such as this article from Real Homes.  You can also take a look in your local garden center or online at Two Wests.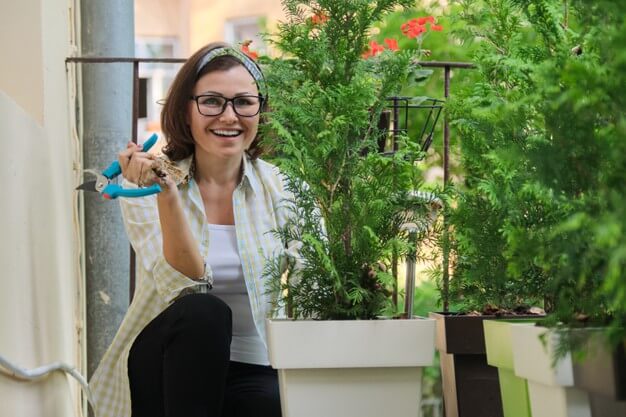 3. Use Good Soil
One of the most important things to consider when you're starting your gardening projects for the first time is to ensure you're using good soil. Having the right soil will make a huge difference to the outcome and will help you get the best from your gardening efforts. You want your soil to be nutrient-rich and well-drained to ensure it's going to nurture your crops properly.  As mentioned above, you can head to your local garden center to find some good quality soil to use and if you struggle choosing the right one, speak to one of their advisors for some help on which is the best option for you.
4. Choose Wisely
When it comes to choosing your plants, you need to be conscious of exactly what you're purchasing. Firstly, you want to choose plants that are easier to grow to begin with, as you don't want to set yourself too much of a challenge from the off. By finding some simple yet beautiful plants to work with, you can get to grips with your gardening style and learn the basic tricks, then you can go on to apply these to more complex projects when you feel confident in doing so.
Similarly, you need to purchase plants that are suited to the growing conditions. Many plants thrive during the Spring and Summer period, whereas others are best sowed during Autumn and Winter. You'll find that most seed packets highlight exactly when the best time to sow is, so you can often plan your schedule around this.
5. Stay on Top of Things
If there's one thing that is absolutely key throughout your gardening projects, it's to be consistent and stay on top of things. This may seem like an obvious tip, but it's amazing how often people put the time and effort into planting their seeds to then get busy and forget to water them frequently and so on. It often helps to make a schedule and set reminders in the initial stages, as you're still getting used to having these extra things to remember and it can just simply help to prompt you when necessary.