Are you tired of the mediocre jewels you usually see around the neighborhood? Are you looking for a personalized piece that will help you stand out from the crowd?
Whether for someone special or simply a personal item, custom bubble letter chains make a distinct statement. Rock your own exceptional world and have a look that best defines you. Either pair it up with pendants or other adornments. The items are thoroughly hand-crafted using only the finest materials. So, you get to have unique items and decorate it as per your fondness.
But with so many options, how would you know you are getting the real deal? Keep these handy tips in mind and be a happy custom bubble letter chain owner!
1. Bigger Is Not Always Better
Especially if you're planning to own a bubble pendant necklace, note that bigger diamonds (or other gemstones) do not give an appealing look. Small diamonds do. They are more suitable and compactly arranged. That means accentuating the chain's subtlety and perfection.
2. The Material Matters A Lot
Some deal with an allergy once the material of certain jewelry touches their skin. If you experience the same condition, choosing the right material is highly crucial. Cubic Zirconia stones are among the sought-after option. As possible, ask the store attendant about their production process. It should have up to five times plating to make sure the item won't emit a negative reaction from your skin and won't quickly dwindle.
3. Pay Close Attention To Each Detail
Are you the type of person who mainly has a concern about the jewelry's front side? It should not be the case with a bubble letter chain. Each detail is very important. In fact, it is the piece's reverse side that reveals its value. It also determines whether or not the jewelry is made entirely for you.
4. Choose A Budget
Customized bubble letter chains can be quite costly, depending on the number of customizations you want, mainly because they require ample time to work and complete the design. Lavish styles or designs are definitely tempting. But wait until you get an idea about the total cost you'll spend. Get an estimate before shelling out dollars so your finances won't be put in peril.
5. WearIt And Enjoy It!
Now that your piece of jewelry is fully customized, it's high time to wear it and flaunt. Enjoy its exquisiteness as long as you want. You can even turn it into an heirloom item to be worn by future generations.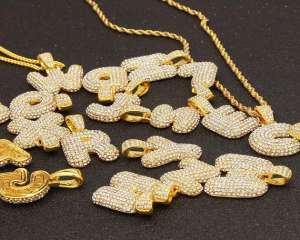 Benefits of Custom Designing a Bubble Letter Chain
Everyone pines for the most refined, unique jewelry piece. Those you can easily buy in stores may be good, but designing your own custom chain is better. Why?
Your Jewelry Is Completely Unique
Literally, no other person in this world will have a similar jewelry item as you have. It is a bit expensive, yes. But think about having the rare opportunity to include all your favorite elements in a single chain. You'll surely gain every pair of eyes.
Add Bizarre Elements
The design is considered the fun part of getting a customized bubble letter jewelry. There are lots of potentials. Particularly in pendants, your creativity will be broadly tested. Though, ensure the metal type and size are perfectly aligned when designing an item to go with a pendant.
Provide Sentimental Value
This is probably among the most significant aspects of owning a customized piece, whether shaping a design around a family symbol or anything with deeper significance. You are given complete authority over the final craft, so make sure it's something you will use for longer. Otherwise, combine other elements that your heart holds dear.