Oily Skin has become one of the major skin concerns among people. It brings a plethora of skin issues like acne breakouts and frequent pimples. However, with the right skincare routine and tips, you can control your oily skin from creating too many issues. Thus, no longer do you have to spend sleepless nights researching over the internet or visiting dermatologists again and again. Follow this simple, four stepped routine regularly to keep your skin, pimple, and acne-free, moisturized, and hydrated. Continue reading below to get a detailed idea of the skincare routine.
Cleanse twice in the morning and at night
What's most important for your skin is cleansing it thoroughly. If your skin is more oily, it can withstand cleansing multiple times. Cleansing would not only wash away the dirt and dust present on your skin's surface but also would reduce excess oil. Keeping your face clean always is the primary key to getting glowing, vibrant, acne-free skin.
You might wonder why cleansing twice is essential. Throughout the day, your skin remains busy producing oils. Hence, cleansing it in the evening or at night is important to clear away excess oils from your face. After cleansing in the morning, apply a day cream for oily skin, while at night, apply a suitable night cream.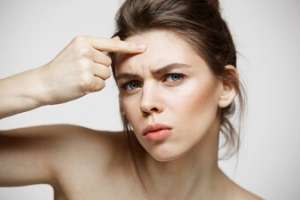 After you have cleansed your skin, apply an exfoliating toner. Your toner must contain either of the ingredients: lactic acid, glycolic acid, or salicylic acid.
Treat your skin accordingly
For oily skin, you have to take extra measures to control the production of oil in your face especially. Make sure to apply benzoyl peroxide or sulfur during the day to stop your body from producing excess oil.
In the evening, apply a retinol-based product to keep the pores clean. This will also ensure glowing skin.
Even if you have oily skin, keeping your skin moisturized is important. If you think you no longer need to apply moisturizers because you have oily skin, you are mistaken. All skin types need moisturizers. However, if you have oily skin, make sure your moisturizer is oil-free, lightweight, and water-based. The Olay 7 in 1-day cream is an ideal moisturizer you can consider using during the daytime.
If you have oily skin, the only way to keep it normal is by following the skincare routine mentioned above. Cleansing your skin twice, followed by moisturizing and application of the right product, is the key. Also, don't forget to moisturize your face twice throughout the day.
You also have to be careful about the kind of products you are using. Never use products containing alcohol, as it can paradoxically increase the amount of oil secretion in your body. Not just alcohol, make sure the products you use don't contain shea butter, cocoa butter, or Vaseline. Apart from that, apply sunscreen, use blotting papers, and frequently wash your face with running water.