Ice fishing is enjoyable, and it has also become popular even in summer. You can decide to go out for fishing on weekends with your friends and family.
If you like ice fishing at one point, you have thought about buying your cabin for winter. This is because it is much easier and more cost-effective compared to renting one every time you want to go fishing.
In this article, you will find information that will assist you in making the right decision while purchasing the equipment, either a new or second hand. With that said, here are a few factors you can consider.
1. Access to water
You need to consider the road you will be using to get to your fishing area and the ability to access the lake. Majority of ways to high traffic lake that are well-known to ice fishing can be cultivated.
If the road is not maintained correctly, you should use a four-wheel drive to get to the lake. It is very dangerous getting stuck in the snow, and you might incur some cost if you have to be pulled out. If you are using a well-known lake for fishing, it will be easier for you to get your shelter in place.
You can also use smaller lakes which have a lot of snows, and at the end of it all, you might not realise that you are using a small pond. It is advisable always to know your destination and how you will get to your location way before going out to fish.
By doing this, you will take caution by using a four-wheel drive, and therefore you will not get stuck or even sink underwater.
2. Cost expectation
Price is a dominant factor while thinking of constructing an ice fishing hut.
If you decide to go for the best ice fishing shanties, you will need to consider the model and the condition of the shelter. If you are doing this for the first time, you might as well purchase a used one. This will be a more economical solution.
You can also decide to build your shanty and accessorise it. At times this might be costly because you might call in a contractor to help you make the house. In case you hire an expert, you must check their past work.
In both building and buying a shelter, try your level best to work within your budget and also put your needs first.
3. Insurance
It is always good to have a plan while taking a shanty on the lake most especially on ice in case of emergency. An accident can happen to you when transporting the shanty to or from the lake.
In case this happens to your auto insurance will cover you. It can either opt to fix or replace them. Your truck may also get stuck in the ice. The first thing to do is to ensure that everyone with you is safe.
In this case, a homeowner's insurance may cover your damages. You can claim with them and pay your deductible, or you can opt to have it replaced. While applying for insurance, you should read through the policy to ensure that everything gets covered.
4. Usage
When you want to get your shelter, it is advisable first to work yourself how often you will be using it. If you are going every weekend or even take several trips with your family and friends, your shanty will be an excellent investment for you.
In the case where you like fishing, but your kids prefer playing sports, or you may have other weekend commitments, then buying a shelter is not the best for you. In this case, renting is the best option for you.
You can also decide to buy the shanty as a group of friends or families with whom you will going out to fish. Buying ice shelter is a huge investment, and it is very costly. Therefore you should be careful when making this decision.
Whether you have bought an ice shelter before or it is the first time, you should know it is a huge responsibility and be careful about it. You should research all the various options found in your area before buying.
You can also consider all the factors I have mentioned above. You can as well ask the questions you have toy your friend who owns a shanty so that you can make a better decision.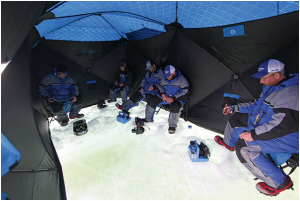 Types of ice fishing shelters
1. Small shelters
They look like tents. They are also very mobile and are easy to assemble. They have enough space for you and your family to put a chair. They also have very good ventilation for a heater, and therefore, you must have warm clothes. It is also the cheapest shanty to all types of the ice house. It is, therefore, the best option to use if you plan to go out for fishing several times a year.
2. Built shelters
You can also to make them, or you can hire a contractor. They are found in a drift for them to be brought off the water when the climate begins to warm up. They are modified in any size that you prefer. Their small size enables you to fit it in the back of the truck allowing you to transport them when you want. They are the best option for you if you are full-time fisher.
3. RV Type shelter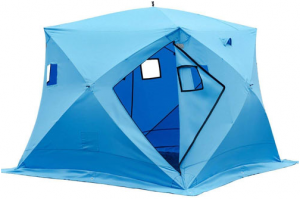 It looks like a travel shelter, but it is only built for ice fishing. They are mostly found in the back west or mid-west where the weather conditions are icy with a lot of snow. They have wheels, and therefore they are hooked at the back of a truck and moved to the lake with so much ease. It is a good option, especially if you have a vehicle and a perfect place for storage during winter. Click here to get a few ideas about making ice fishing shanties.
Conclusion
As mentioned above, there are several options for ice fishing. There are still the options you could use when ice-fishing. You should be extra careful while deciding which type of shelter to use. Choose wisely and pick a product that meets your needs.