Are you looking for ways to make yourself look good on the golf course?
Golf is a great sport and a fantastic way to keep fit and enjoy yourself at the same time. As one of the best endurance sports, if you want to get the most from your game, you need to find the best way to keep in shape.
Women's golf outfit ideas help you look the part and feel great about yourself throughout a gruelling match. However, do you know the right outfits to wear? The key is to choose functional and fashionable outfits that let you perform at your best.
If you're looking to improve your golfing, read our guide on the 6 best women's golf outfit ideas you should try today.
1. Women's Hat and Visor
When it comes to casual golf attire for ladies, a women's hat and visor are essential components. Visors can shield the eyes from the sun while still allowing unrestricted vision, and hats are good for keeping the hair out of the face while providing shade.
Depending on the weather, there are a variety of hat and visor choices available. A wide-brimmed straw hat, Panama hat, or fedora-style hat can provide the perfect amount of shade while looking sophisticated. For a more casual look, you can try:
a baseball cap
cap-visor
beanie-visor
Additionally, visors also come in a range of styles and colors to match any specific outfit choice. Regardless of what options are chosen, a women's hat and visor are must-haves for any golfing activity.
2. Ladies' Golf Top
A ladies' golf top is an essential piece of a woman's golf outfit. Not only does it provide comfort and protection from the sun and wind, but it also completes the look.
Choosing the right quality golf top is essential; it should provide the right amount of breathability and weather protection while looking stylish and fashionable. Some popular choices include sleeveless, long-sleeved, or sports tops with built-in UPF sun protection.
Ladies' golf tops come in a variety of prints, colors, and styles to suit any taste. To complete the look, opt for a pair of tailored slacks and the latest golf shoes. With the right golf top, a woman can stay comfortable and look her best while on the green.
For more on what to wear golfing, you can check out golf shirts for women at this link.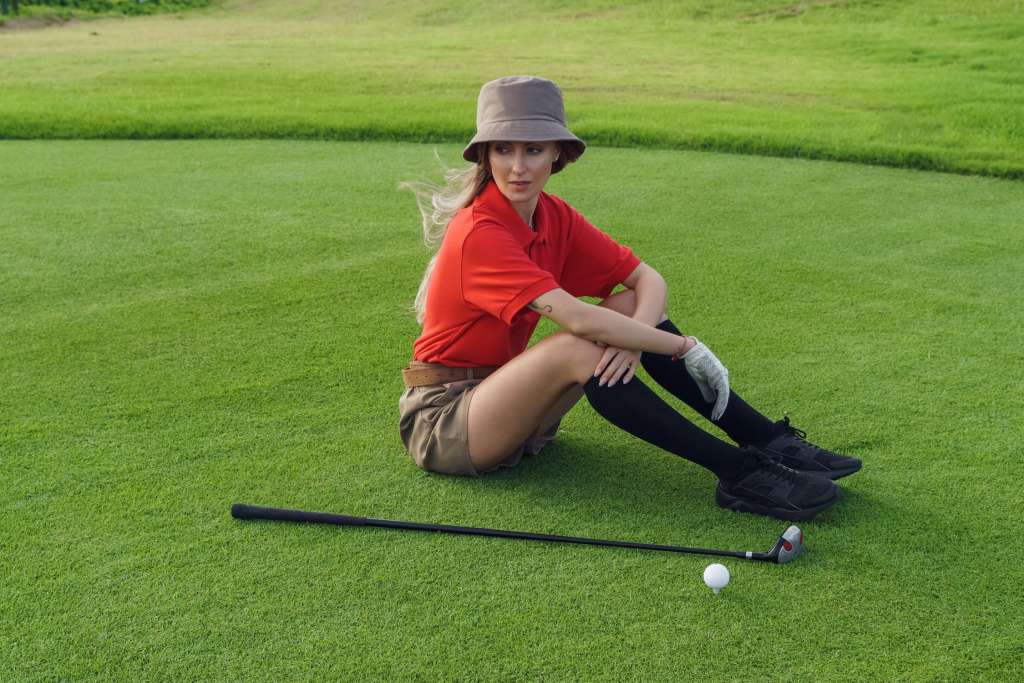 3. Ladies' Golf Bottom
When it comes to women's golf outfit ideas, nothing beats the trend, comfort, and style of ladies' golf bottoms. From the latest in specialised golf trousers to classic capris, these trousers are a must-have for any female golfer.
Lightweight and breathable fabrics provide the perfect temperature regulation, keeping you cool when temperatures rise and warm during cooler days out on the course.
An array of patterns, colors, and designs gives you plenty of options to mix and match with other pieces from your golf wardrobe. There are water-resistant finishes offering protection from wet fairways, and there are raised hems and grips to keep them in place for added performance and comfort.
Whatever your style of golf, there's sure to be a pair of ladies' golf bottoms to make a unique statement on the course.
4. Ladies' Gold Shoes
When it comes to women's golf outfits, ladies' gold shoes are an especially fashionable and stylish choice. Gold is a timeless color that lends sophistication and grace to any outfit.
Gold shoes are perfect with any of the traditional, polished golf attire options, like khaki slacks or a navy polo. They are also a great way to add a touch of sparkle to outfits with brighter, bolder colors like pink or purple.
Special details like unique cuts, perforations, or higher heels can add both interest and subtle flair to a golf outfit. Ladies' gold shoes are an excellent way to showcase personal style and express creativity on the links.
5. Summer Golf Dress Code for Women
Summer is the ideal time to break out the bright colors and fun patterns, and the same goes for a day at the golf course. A summer golf dress code for women typically includes maxi dresses, mid-length dresses, and cap sleeves to keep cool in the heat.
A polo shirt and shorts are also acceptable and should be cut to fit comfortably and allow freedom of movement. Women should choose light colors that are comfortable and complement the summer months.
Choosing to wear different golf hats or caps to block the sun is also encouraged. Women should stay away from lighter colors in sports to avoid seeing sweat stains.
A comfortable sneaker or golf sandal is acceptable and ensures your feet stay comfortable. Women should also keep in mind that outfits should remain modest and avoid shorts or low-cut tops. Following this code will help keep women looking stylish yet cool on the greens this summer.
6. Women's Golf Clothes for Winter
Transitioning into winter golf attire provides a unique challenge for female golfers. The weather requires thinking outside the box and wearing different styles to stay protected and warm while hitting the links.
Layering is the ideal way to keep warm while playing golf in cold temperatures. A turtleneck sweater, waterproof vest, and long sleeves can all be layered together to keep you comfortable.
Also, women should experiment with thermals and thermally insulated golf shirts. Top off the look with a stylish, lightweight coat and a pair of trousers that offer great mobility for your swing.
Hats, gloves, and golf-specific leg warmers can add the perfect finishing touches to your winter golf outfit and provide you with a unique look away from the links. Ultimately, having the right layering pieces allows you to build a stylish winter look for the golf course.
Try These Women's Golf Outfit Ideas
Women's golf fashion has come a long way, and today's modern style makes it easier than ever to look good while playing your best.
With these women's golf outfit ideas, you can stay cool, comfortable, and confident on the golf course. Make a statement and look good while playing well, ladies! Try out these outfit ideas today to up your game!
Did you find this article helpful? You can check out our website for more awesome content like this.