Your style and taste in clothes is a defining attribute of your personality. A good outfit can uplift you and give you a keen sense of self and confidence. A good outfit is an essential aspect of any event and adds to a person's ability to communicate better since they are comfortable in their skin. Most often, however, we take forever to decide on the perfect outfit. We take hours to determine the style, colour, appropriateness, and how it makes you look from a thousand different angles. 
This is why you should enrich your closet with a diverse yet elegantly simple lehenga choli. A lehenga is an intricate article of clothing that comes in two pieces. You have a long skirt that is embroidered and pleated and a blouse that goes along with it. You can also choose to have a dupatta along with the lehenga. 
Casual lehengas can give you just the right look for almost any event or party, whether professional or personal. Sprucing up your wardrobe with a few casual lehenga cholis' will give you multiple and versatile options. You can wear and style these beautiful outfits in various glorious ways, saving you so much time and money. You'll never truly feel like you're running out of cool and fun yet chic and elegant outfits.
Variations of Lehengas:
Before you see all the ways you can style your lehenga, you want to know the options you have to choose from. Here are some of the different kinds of simple lehenga designs:
An A-line lehenga has a straight, A shape or A-shaped hem, where it fits tightly around your waist and tapers out at the bottom. This kind of lehenga sits very beautifully on hourglass body shapes and provides a more modern look. 
A flared lehenga is a circular shaped lehenga with multiple layers, hues, and pleats. The best part about these types of lehenga is that they suit all body types and can give you the exact amount of dramatic appeal to your look. You can have a single or double flared lehenga, a double flared one having a layer over another layer. 
A mermaid lehenga, also known as a fishtail lehenga is a newer design which is super elegant and modern. In this design, the lehenga is tight until the knees and flares out from below the knee from the calves. This design is perfect for accentuating your curves and is best worn with a halter neck blouse. 
This style of lehenga is highly popular in the southern parts of India. This includes a palazzo pant instead of a skirt for the bottom, along with a blouse and a dupatta that is tied around the waist. You can have very traditional patterns and designs or simple and slick, modern designs. 
Paneled Lehengas have several panels of fabrics attached to them that together form the overall flare of lehenga. It is added at the hemline of the lehenga to add more volume and patterns to the skirt. You can have a similar design over all the panels, follow a colour pattern, or go all out and have highly contrasting panels. 
In this style, the skirt is long and straight with not too much space for pleats and flares. Most skirts are provided with a slight side to facilitate easy movement. These styles are best suited for inverted triangular or rectangular/T body shapes. 
Most of these lehengas differ in the style of skirts. You can also majorly mix these styles with the kind of dupatta and blouse you wear and how you accessorize the lehenga. 
Let us look into three ways to you can style your lehenga choli:
Slit top paired with Lehenga Skirt:
Ditch the blouse and choli and vamp your lehenga up with a sleek, long slit top or slit Kurti. You can even wear a long full-sleeved jacket over your lehenga skirt. Ideally, with this style, an A-line or Flared skirt looks the best. This gives a more modern look to your outfit that you can rock at a party or wedding. 
Drape your dupatta around your neck:
Instead of pinning your dupatta or choli across your waist, drape your dupatta loosely around your neck, especially if you want to show a little more skin but keep the outfit traditional. 
Crop top with Lehenga skirt: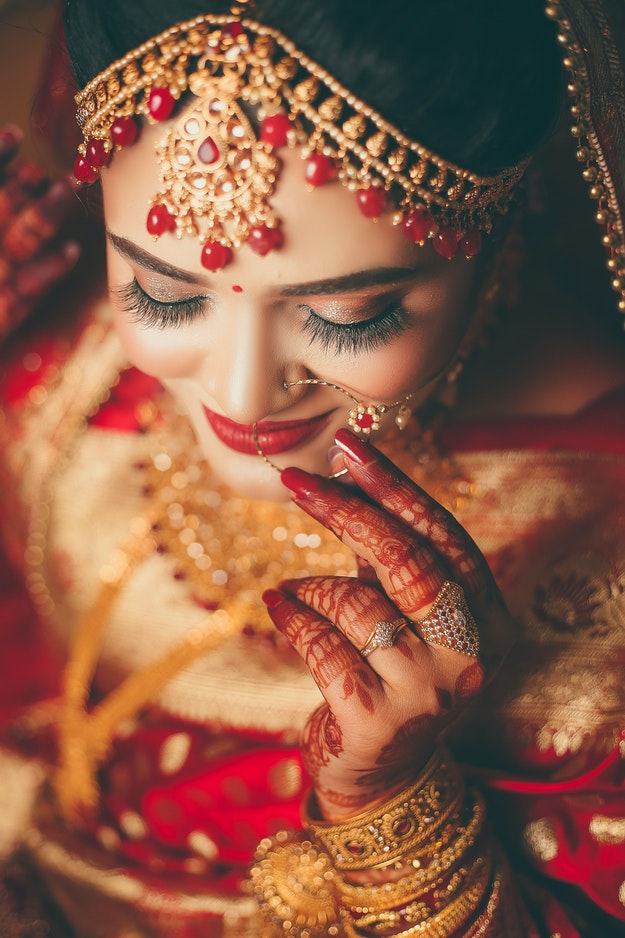 A new trend that has popularized lehenga is pairing the skirts with crop tops. You can have a plain simple lehenga skirt with minimal pleats or embroidery and wear it with a solid crop top or patterned top. You can also have a grand flared skirt and a very simple crop top or off-shoulder top that matches the colour scheme. 
Saree-lehenga hybrid:
If you have a saree that you don't use much or can't find a nice blouse for, use your lehenga set with your saree. You can also make a combination with tying the dupatta around your waist and drape the dupatta down your shoulder like the 'pallu' of the saree. This will help you achieve a very traditional yet very simple and comfortable look. If you do use a saree for this look, you should figure out how to tie it without adding too many layers. There are multiple YouTube videos to teach you the same. 
Now that you know of the different variations and styles of lehenga designs out there, you can easily change your look every now and then and shuffle around with so many patterns and colors. All the above styles, along with so many more that you can discover online and in your room, are certain to give you a refreshingly new look each time you wear a lehenga. There are so many advantages of buying a simple lehenga set that you can pair with so many different apparel, accessories, and shoes you already own!
Author Bio
Chethana Achar, I am an Engineer by profession and a blogger by passion. I like to write, express ideas, feelings, knowledge, and interact with like-minded people and want to learn a lot.