Antique furniture is a priceless possession, for its historical value as well as durability that kept them intact for many decades. While you might be able to spot antique furniture from its design, identifying the type of wood that it was made with might be a little difficult. Knowing the type of wood that antique furniture is made with is important for its appraisal and maintenance. You do not need to be an expert to identify the type of wood that antique furniture is made of. This article highlights the things to look out for when you want to identify the type of wood in antique furniture.
Tips For Identifying The Type of Wood in Antique Furniture
The trick to identifying the type of wood that antique furniture is made from is knowing the characteristics of different wood types. The first thing to note is that there are two major classifications of wood, which are hardwood and softwood. Hardwoods are usually gotten from deciduous trees, while softwoods are gotten from conifers. With that being said, below is a list of the common woods used in making antique furniture highlighting their characteristics.
Mahogany is a type of hardwood that is commonly found in the West Indies, as well as Central and South America. It was popular in making antique furniture that had European styles. You can therefore find a lot of antique dining tables and dressers made with mahogany. This hardwood has a coloring that ranges from light brown to red, as well as a unique grain pattern. Mahogany can be found in solid form or with a veneer.
Pine is a softwood that is very common in antique furniture. It was used for the interior of a lot of antique furniture, while also effective in building carcass of furniture pieces. This softwood typically has a straight grain, that comes in pale yellow or white. Pine is a top choice for furniture due to its ability to resist swelling and shrinking.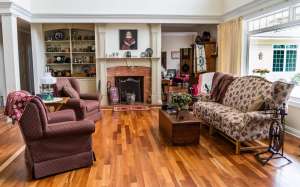 Another hardwood, oak can be commonly found in antique cabinets, woodturning as well as other major woodwork. There are two variations of oak, which are white and red oak. Oak usually has a light brown color with straight grain. You can also notice knots and growth rings on this type of wood. When oak is quarter-sawn, it reflects fleck.
This type of wood got its name from the flower, as it usually smells like a rose whenever it is cut. Rosewood is a hardwood that is very similar to mahogany, albeit with white and black rings. It is also much heavier than mahogany.
Yet another hardwood, cherry is associated with American antique furniture. Having a pink hue when it is first cut, cherry darkens with time giving it a nice red color. You can most likely identify cherry in antique display cabinets.
 Conclusion
If your antique furniture is in bad shape, you can take it for furniture restorations to make it look good again.