There are a few factors you need to consider when choosing a catalog printer. Some of them are durability, cost, and coil binding.
Digital printing
When choosing a catalog printing service, it's best to have a solid understanding of the different types of printers and the advantages and drawbacks associated with each. For example, digital printing is a great alternative to traditional print methods. Digital presses offer several benefits such as fast setup time, quick turnarounds, and the ability to change the artwork or address information within a single print job.
In terms of quality, digital prints don't compare to offset prints. However, they are better for smaller orders. They are faster and more cost-effective.
A glossy coating on a product photo or catalog page can make it stand out. The coating can also help to prevent abrasions and protect the pages from wear and tear.
A test run can help you to optimize your print settings and see what works for you. This can save you from wasting money on prints that don't look as good as they should.
Choosing the right paper for your project is a crucial component of a successful print job. Choose a stock that is designed for optimal post-printing processing. It's also a good idea to ask for a sample before making your purchase.
Other factors to consider are the weight and density of the paper, as well as the finish of the cover. The weight of the paper will determine how thick the print will be. Velvet stock is a good choice for soft tones. On the other hand, 70# and 80# cover stocks are a good fit for heavier pages.
A gloss aqueous coat can also make your catalog page pop. You may need to make adjustments to the paper to accommodate the finish.
While digital printing isn't the only way to go, it's a good option for small runs or those who want to be more environmentally conscious.
Offset printing
There are many different factors to consider when choosing offset printing for your catalog printer. Your budget, the type of paper you plan to use, and the timeline you have in mind are all key.
The best print solution for your project depends on those factors. A digital press may be a cheaper option for small jobs, but if you need to produce a high volume of items, you'll probably want to go with an offset printer. Offset printers can print on almost any material you can think of, including plastic, leather, cloth, and wood. They also have the ability to print on a variety of unique materials such as metal and even rubber.
Offset printing can produce high quality prints quickly and affordably. In addition, the technology behind it has improved drastically over the years.
Digital presses also have automated setup, which reduces the time needed for set up. However, you will likely need to run the printing device on scrap paper to get the best results.
While there are pros and cons to both types of printing, they are both worthy of consideration. For example, the newer toners used on digital printers require less heat to cure, and the newer machines have greater capacity.
One of the most important factors to consider when deciding between the two is the color scheme. Digital printers will allow you to customize each individual unit, but it will be more expensive to do so with an offset printer. You can also choose from a plethora of paper stocks, including 18-point stock, or even rough paper.
Of course, there are other factors to consider, such as how large your print run will be. If you're only printing a few copies of your catalog, you'll probably be satisfied with a smaller-scale printer. But if you're printing hundreds or thousands of copies, you'll probably want to use an offset printer to ensure that your pieces look their best.
Coil binding
If you are in the market for a catalog printer, you have a few options to choose from. Each one of them has its own advantages and disadvantages, and it is important that you know which one will work best for your product. This way, you can better steer your customers toward the type of catalog that will fit their needs.
If you have a magazine-type layout, then a coil-bound catalog will be your best choice. It will help you maintain the professional image you want to give your catalog. However, keep in mind that the pages protrude further than the inner pages when folded. Likewise, if you have art near the center gutter, you will need to consider coil binding.
Aside from providing an upscale look, coil binding also protects your materials. The plastic coils are durable and come in a variety of colors. They are also crimped to prevent them from unraveling.
Another option is perfect binding, which uses adhesive to bind the cover and pages together. The result is a professional-looking spine. Unlike spiral binding, perfect binding does not cut off any part of the full-page image.
Finally, you can opt for vinyl back. These types of binding are popular for textbooks, directories, and PowerPoint presentations. You can also use die-cut elements to add an eye-catching effect.
Wire-o binding, which is similar to spiral binding, is used for workbooks, cookbooks, calendars, and reports. It is very durable and helps your printed products last longer. With wire-o binding, you can be confident that the pages will lay flat when opened.
Saddle stitching is another type of catalog binding, and it is ideal for catalogs that have eight to forty-four pages. Catalogs with fewer pages may also be ideal for saddle stitching.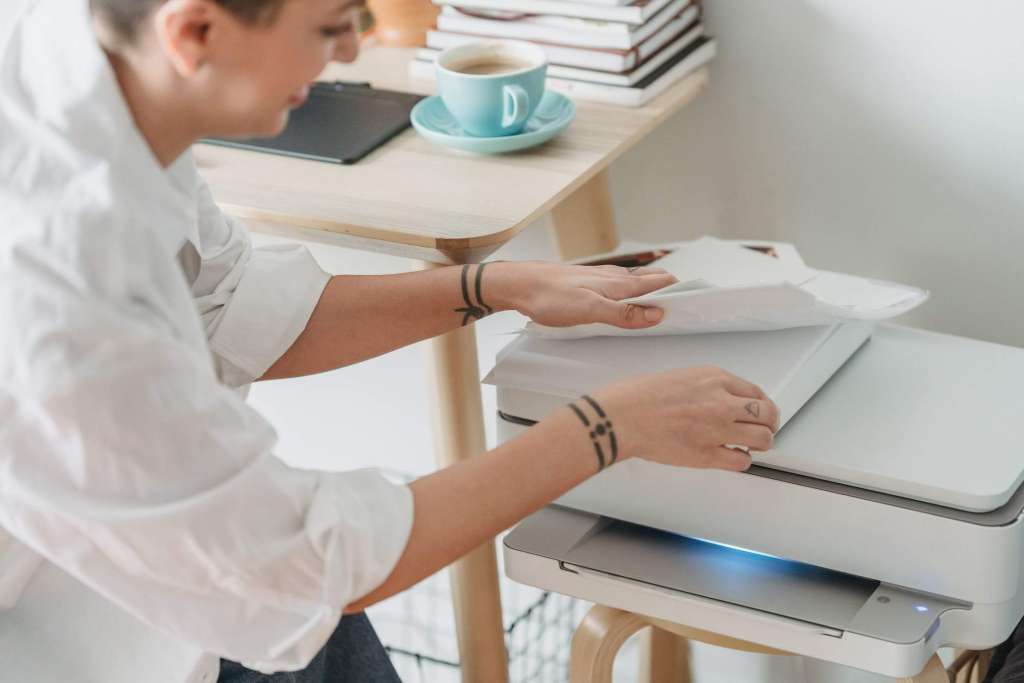 Durability
The durability of a catalog printer depends on the paper used for the print job. If you have an expensive item to sell, make sure you advertise it using high-quality materials. This will result in long-term savings.
A glossy paper is a good choice for a magazine cover. This is because it makes the photos pop. Additionally, the coating can keep the pages from smudging and abrasions.
An aqueous coating is another way to improve the durability of a catalog printout. It can be a matte, satin, or gloss finish. Each will add a bit of extra polish to your printout.
Another trick is to use heavy ink coverage. This can be done by printing on a larger sheet of paper and trimming it to the desired size. Depending on your project, it might cost you more.
Another feature of a good printer is multi-pass printing. It will ensure that each page is printed in the correct order. For more complex projects, a printer might recommend that you opt for saddle stitching.
A good catalog should include an impressive cover. The right type of cover is important because it can determine how the entire catalog looks. Often, luxury items look best on thicker stock. However, thin covers can also obstruct your message. Using a glossy finish can make rich colors stand out.
The durability of a catalog can depend on the quality of the paper, as well as the binding style. Saddle stitching and perfect binding are commonly used for catalogs. They also have a large impact on the quality of the finished product.
When judging a catalog, you should consider all the factors. The best choice is to work with an experienced commercial printer.
Cost
The cost of a catalog printer varies depending on the type of catalog, the number of pages, and the paper used. A professionally designed catalog with eight to ten products on each page can cost PS150 to PS200 per page.
Depending on the type of product or service, the catalog may contain charts of measurements, finishes, and other features. Catalogs also typically include testimonials from customers.
To make a great catalog, it's important to use high-quality images. Professional printers will advise you on the best paper and design to use. This will help ensure that the final product looks its best.
You can request a catalog printing quote online. After completing a form, you will receive a quote within a few minutes. Some of the factors that will be considered in the quotation are the time required for art direction, the length of time for photography, and the physical cost of printing.
If you plan to produce a larger number of catalogs, you can save money by using an automatic publishing system. These systems will allow you to create documents and have them ready for download as soon as they are finished.
Typically, in-house printing teams require extensive skills in copywriting, marketing, and other areas. Fortunately, these skills are not too expensive to acquire. For example, a professional copywriter can charge 25 cents a word.
There are thousands of variables that can influence the cost of a catalog. Among the most significant is the number of pages, the paper, and the binding method. However, you can reduce the total cost of a print catalog by selecting the right options.
If you're planning to mail your catalog, the shipping costs will add to the cost of your catalog. Regardless of the mailing method, it's important to get it to the right audience.