If you're fond of experimenting with different types of men's gold necklaces, you'll be pleasantly surprised at the wide array of jewelry collections designed specially to cater to men with varying style and aesthetic preferences. While newer designs continue to emerge, some classic styles have made a major comeback, and if you're in the know you may have come across men sporting old-school jewelry items revived to blend with their cosmopolitan lifestyle.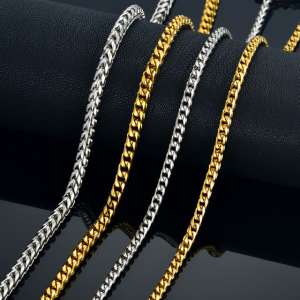 With online jewelry stores offering some great designs at exciting prices, buying a gold necklace or bracelet, or ring that fits the bill requires a bit of preparation. Here is a quick guide to buying a men's gold chain, which you can easily apply to buy other items as well.
Price
Whether it's for personal use or gifting, the product should fit your budget, if you have one. Men's jewelry comes in a variety of materials and therefore the prices vary widely. If you're only interested in precious metal, the price will run higher than that of fashion jewelry, but buying a gold chain is more of an investment, so the higher price point should not be a concern.
Karat
This is the most important criterion when buying a gold chain. Karat determines the composition of the gold ornament. For instance, an 18-karat gold jewel will have 18 parts gold and 10 parts alloy. Men's jewelry often comes in 10 karat gold as it is more durable than 18kt and 14kt gold and will be cheaper too as it will have more alloy than gold.
Also, don't forget to check for the KT stamp when buying any gold jewelry in the United States.
Design
Men's neckwear comes in an array of designs: from minimalist statement necklaces to heavy-duty Cuban link bracelet, which is all the rage these days. If you like the simplistic and understated style, opt for a lightweight and slim chain with an interesting pendant or charm. If, however, you like to make a statement, adding a rock star-style Cuban chain to your collection is worth exploring.
Because of the way they are designed, link chains turn out more durable. They are flexible yet strong and make a bold style statement. For inspiration, check the latest rocking out Cuban link chains for men set in gold and studded with the highest-quality diamonds and precious stones.
Other considerations
Clasp: If you like it easy, pick a chain or necklace that comes with a lobster claw clasp and avoid ones with ring-shaped or other clasp types that are not comfortable to open and close. Another key aspect to consider is the length of the chain. If buying online, check product details and understand how long the necklace or chain is and how much it weighs to avoid being surprised when the product arrives.
Lastly, consider if you want a chain with a safety clasp for added safety. If you're prone to having your neckpieces stuck in your clothing or losing jewelry when you least expect it, buy a chain with a safety catch.