If you've not yet considered the potential for custom stickers to advertise your business – and do it well – perhaps now is the time to give it some thought. Stickers are an extremely cost-effective (and very fun) way to advertise a business, particularly one that relies heavily on a solid brand name. The big advantage in utilizing stickers for marketing is the impressive versatility that it can afford you – whether you want to implement stickers in a guerrilla marketing campaign or use them to promote certain products in-store, flexibility is the name of the game here. There's a lot more to it, though – in this article, we take a look at a few ways that custom stickers can be used to positively influence your customers.
Getting started with custom stickers
Whether they be sleek clear stickers or bold colorful stickers, custom stickers in the marketing world have huge potential to reach a wide range of people. One of the easiest ways to make this happen is to simply hand out stickers to your customers. The point of this is to make them instant brand ambassadors – if you send out stickers with customers orders or give them to people instore – and they like the design that you (hopefully) lovingly created – they'll soon be applying their stickers on things like water bottles, laptops, and notebooks, so you'll potentially have an army of people showing off your brand wherever they go! Even if you don't want to be handing out stickers to every person who buys from your brand, stickers can be used in a highly functional way through the use of packaging. This is a great option for brands starting out who may not be able to afford custom packaging – a sticker is all it takes to transform a bottle or box into something unique to your brand.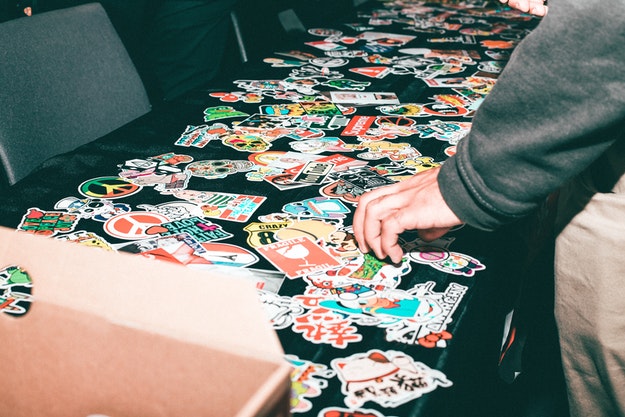 More creative ways to use stickers
If you're looking for a way to set yourself apart from the pack, stickers are another great way to do so. While business cards are a very common thing in the business world, it is for exactly this reason that you might go unnoticed in a stack of cards. Stickers, on the other hand, help to separate you from the pack, particularly if you use an interesting aesthetic design. In the same way, stickers can be a good way to promote a sale or special promotion with ease – the small inclusion of a sticker means that heads are far more likely to get turned (especially when the sticker is advertising a huge saving). Finally, stickers are a great idea for shipping labels. Rather than using boring labels you find at the post office, make your package stand out by using stickers with brand-centric fonts and colors on which to write your customer's details. When they see their name and address on your beautiful sticker, there's a much better chance they're going to keep you in mind for the future.
Consider stickers for your business today
If you're looking for a novel, fun and interesting way to advertise your business to a wide range of people, stickers are an excellent way to do so. Not only do they boast versatility, but they demonstrate that your brand has a flair for all things fun and exciting, particularly if you take the time to make your stickers really stand out with interesting pictures, fonts, and colors.