Description:
Want to hear great news before the end of the year? Well, we are happy to tell you that Google released the long-expected update. In this text, we will give you the necessary information about this novelty.
It has been available under the name Android Q, and it was a beta version. You might wonder what is so special about it when there are always some smartphone software updates. First, what is nice is that this one is not adequate for just a few selected Google phones. However, any others as well, which means that a lot of users can benefit from this modern version of Android 10 by Google.
The first difference that everybody will notice is that it is the only operating system so far that it doesn't carry the name of a dessert. Nevertheless, it comes with a lot of sweet features, and we will know to check them out.
It will be essential to know that you will also be able to play your favorite mobile casino games with this new version Google released. You will be happy to know there are some new slots as well.
Googles Android 10
This is a great update for the range of Google produced options, but also phones from a few other companies and the list are getting bigger. If you have Google's Pixel smartphone, you can simply download the software from the developer's site.
You can do it if you don't want to wait a couple of days for updates on your smartphone. Many other manufacturers are still using previews but will release full versions soon. 
We feel that it is necessary to point out that the update is completely free. So, if you come across an offer to pay for it, you should know that it is a scam.
What does it Offer?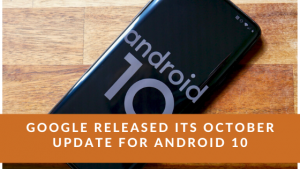 Privacy and Security
It has a lot of innovations in these aspects, which is quite crucial because a lot of people around the globe are using Android. There is a change to Google Play System that will now send privacy and security updates through the Google Play Store. Till now, we had to wait for the entire OS upgrade to be able to access the new features, so this is quite an improvement.
You can also decide by yourself when you want your location to be tracked. As you know, before this change, you had to turn off the app when you didn't want to be tracked. Now you will be able to choose to activate location tracking only when you are using the app.
Dark Mode
Android 10 enables you to use a bunch of apps when you turn battery saving mode on. Unlike before, when you can navigate through the setting and a few more things now, you can use YouTube, Google Keep, and so on also in dark mode.
Gesture Navigation
The Back button that we know from Android 9 Pie is now replaced with a swipe gesture bar on the bottom of the screen. When you swipe up, it will take you to the home menu, and when you go left or right, it will show the apps that you previously used. It's faster and easier to navigate, especially with larger phones.
Accessibility
It is lovely that Google continually thinks about how and what to improve, so the products are accessible to everyone. With this update comes new support for professional hearing aids. It means that people who have to wear devices to improve their hearing will be able to connect to the phone over a specific Bluetooth channel. It is just one example, among many others, of how Google improved accessibility with Android 10.
Conclusion
We have to admit that Google made remarkable improvements with Android 10. We hope that you also liked reading about all these new features. If you still didn't update OS on your smartphone, we can ask what are you waiting for. Have you already heard about Android 10?
Did you install it? What are your impressions?
About the Author
Thomas is a freelance journalist and researcher. He is fascinated by all rapid advancements in smart technology and often writes about them.  Thomas spends his free time creating Android apps for the business. Here you can try also stare gry hazardowe za darmo.