Proper medical uniforms like the men's Cherokee scrubs allow the wearers to feel light. Suits are an excellent fit to make male nurses more productive in their job. Therefore, they should choose only medical scrubs that fit them and function well.
The global medical clothing market continues to grow due to the stiff competition among manufacturers to make their products better. The market is also driven by the increasing number of surgical procedures and cases of different chronic diseases. Researchers project the global value for the non-woven medical cloth market to reach a total revenue of $1.61 billion in 2019.
Things to consider when buying medical scrubs
There are several things to consider when purchasing a nurse uniform to make sure it fits and functions well. Here are a few tips on how to choose the right medical scrub for you:
Chose scrubs that you can use with comfort while doing your job. You should select a uniform with a patch pocket where you can keep things like your mobile phone, pens, and medicinal instruments.
Manufacturers use different textiles in making the uniforms. Many healthcare professionals prefer scrubs made of cotton due to their breathability and overall comfort. Others love polyester due to its high performance, easy-to-care nature, and ability to resist stains.
When buying a scrub, make sure that it fits you well. If you want a V-neck style, it should not go below your armpit line to maintain your professional look. You can also wear a crew-neck undershirt for additional protection and comfort. You can also consider a uniform with squared-off pockets and stitching to accentuate your shoulders.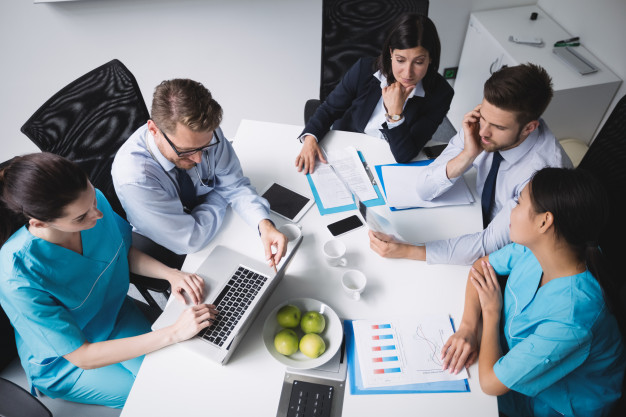 You should look good while wearing your uniform. Choose a brand that can do embroidery to personalize your scrub. You can also put your practice name and logo on your clothing to achieve a more professional look.
Antimicrobial properties –
As a nurse, you are working in a hazardous environment. Therefore, you should select a scrub with antimicrobial properties to protect you against odors and germs as you do your rounds. Antimicrobial technology will keep you safe and fresh during your duty.
How to effectively wear medical scrubs
There are some things to consider when wearing your scrubs. Here are some tips when using your uniform:
Undershirts or underpants should be sufficiently concealed –
You can wear your regular pants and shirt under your medical scrub. However, make sure they are entirely hidden. You should also feel comfortable and maintain your freedom of movement.
Do not wear regular clothing inside the operating room –
Avoid wearing undergarments when attending surgeries to prevent contamination.
Ensure your uniform's color matches –
Some healthcare professionals buy scrub tops and pants separately, and the colors may mismatch. To avoid committing the same mistake, you should purchase a two-piece scrub set like the men's Cherokee scrubs.
Do not wear V-neck scrub tops with very deep necklines –
Avoid wearing scrubs with a too deep neckline to prevent over-exposing yourself.
Make sure your scrub fits well as everyday wear –
Make sure that you wear a uniform that fits you well to ensure your comfort and freedom of movement.
As a healthcare professional, you should maintain a polished look while on duty. By choosing the right medical scrub, you will preserve the admiration of your patients while serving them.