Popular as the 'Bangle city of India', Firozabad boasts of a beautiful array of colors that brightens the entire city of Uttar Pradesh.
Located in the western part of Uttar Pradesh, it is one of the most important commercial centers of the state. It is just 200 km from Delhi and is popular by the name 'city of glassware'. You can take a Delhi to Firozabad bus to travel conveniently between the cities.
Also popular as the 'World Capital of beads', Firozabad has a huge production of beads to make jewelry items, clothes, and various other accessories.
Tourist Places in Firozabad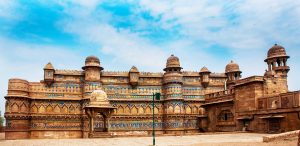 1. Sandstone pillars
Installed by the ruler Feroze Shah Tughlaq, the two Ashokan Sandstone Pillars are situated at a distance of 5 km from Firozabad. These beautiful sandstone pillars are a unique feature in Indian history and are known to connect two different dynasties that ruled the country — the Mauryan and the Tughlaq empire. If you are traveling to Firozabad or are a resident, the best time to visit this attraction is during the months of October to March. Summer months can be avoided as it gets really hot.
2. The Kalan Mosque
Built between 1368 and 1387, the Kalan Mosque was the brainchild of Khan-i Jahan Junan Shah, the vizier in the court of the last Tughluq sultan, Firoz Shah Tughluq. Because of its dark appearance, this mosque is often referred to as the Kali Masjid. The mosque is 66 ft tall and can be accessed by a flight of 32 steps. There are also two tall towers near the entrance that add to its beauty.
3. Marsalganj Jain Temple
Also popular by the name of Shri Digambar Jain Atishaya Kshetra Marsalganj, the famous Marsalganj Jain Temple is located in Marsalganj, 21 km ahead of Firozabad in Uttar Pradesh. The temple is known for an ancient idol of Bhagwan Rishabhdeo which was built by Baba Rishabdas. Baba Rishabdas was born into a South Indian brahmin family. He was a stern follower of Jainism and arrived at this place in the 15th century when the place was booming with trade and business.
Tourist places around Firozabad
Taj Mahal, Panch Mahal, Prem Mandir, ISKCON temple, Agra Fort, The Buland Darwaza, Banke Bihari Temple, Fatehpur Sikri, etc. are some of the most popular attractions around Firozabad. Visit these places on your trip to Firozabad and explore the city to the fullest. These places are best for weekend getaways from this city.
How to Reach Firozabad
1. By flight
The city has no regular flight service from other major cities of India. But the nearest airport is Kheria Airport which is located in Agra. The distance from this airport to Firozabad is 42 km.
2. By train
The city is well connected to all major cities of India through regular trains. Firozabad (FZD) is the railway station that can be accessed to reach this plan.
3. By Bus
One can easily get regular buses to Firozabad from various parts of India. If you are traveling from Delhi, you can do a Delhi to Firozabad bus booking in advance to get the best price. In this journey, you can enjoy free spin games online (darmowe spiny).