Those that travel frequently to spas and wellness centers, will agree with us when we say, having the option of enjoying a session in a hot tub or a spa is one of the best things life has to offer. What's even better is having on in the comfort of your own home. This can be done, via a few different means including purchasing one for your own home. Whether you call it a hot tub or a spa, they are one in the same thing.
The difference is perhaps in the installation method, and whether they are kept above ground or in-line with the ground. Spas in hotels and holiday locations are slightly different than those you can buy in stores; however, it depends on the type of water you use as well.
Anyone can create the same experience using salt-rich minerals and Epsom salts, for instance, to get that rich aromatherapy experience. Read about this more here. Having said that, there are several different ones to choose from, we shall include this information for you if you're on the market looking to buy one for you or your family.
Types of Hot Tub Spas
Now more than ever purchasing an appliance such as this has never been more useful, with all the self-isolation and quarantine scenario that the world is facing, when you cannot go off on holiday to some tropical island in Hawaii or Mauritius, the least you can do is bring some aspect of it into your own home.
There are a few different ones to choose from too, including the inflatable and portable ones for when you don't have enough space, or perhaps you have too much of it and decide to move it around in different parts of the house.
1. Acrylic Hot Tubs
If you are sure you will be living in your house for the rest of your life, or when you move you will be selling everything with it, this should be your go-to. This permanent fixture won't be going anywhere anytime soon and is designed with the idea of hydrotherapy in mind.
Hydrotherapy is a type of therapeutic service that involves a whole-body experience, which involves moving and doing certain forms of exercise in the water. They are different from normal pools in terms of their temperature, pressure, and controlled movements.
This is a good option for treating or bringing relief to symptoms of back pain, stress and anxiety, headaches, arthritis and rheumatic pain, poor circulation ion the body, muscle injuries for athletes or people who have had an accident and suffering from broken limbs, and lots more https://goodspaguide.co.uk/features/hydrotherapy
The material that these are typically made from is known as Lucite acrylic. Which is a very strong, durable, and scratch-resistant compound. It also inhibits the growth of unwanted items such as bacteria and stays cleaner, longer.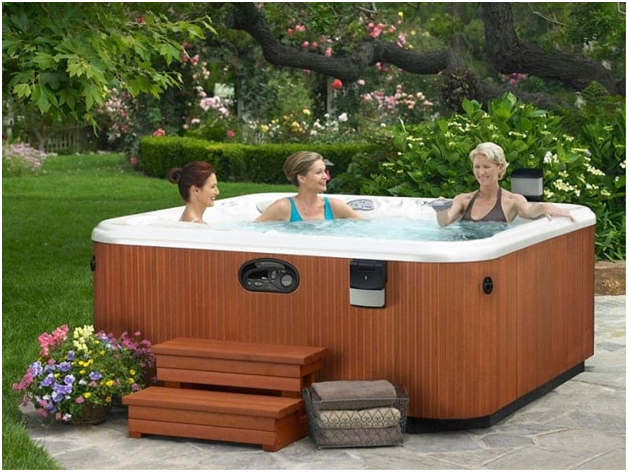 2. Inflatable Portable Spa
One of the best options to choose from is the inflatable and portable spas, or hot tubs. This is the opposite of the acrylic one mentioned above because it is not a permanent fixture in your backyard and does not need to be installed into the ground or cemented to the floor.
It is the ideal companion for anyone who lives in rented accommodation for instance, or who is a fan of going away on spa vacations frequently but finds it too expensive or cannot get any access during peak seasons. These have everything that one needs in a spa tub with the difference of being able to dismantle it when not in use.
They come in two types, the foam-walled ones, and the inflatable ones. the latter is made from an inflatable vinyl lining and is most suitable to be used in all seasons. The former, foam-walled ones use a high-density foam material to create the wall of the structure including the vinyl lining as well. this prevents the water from leaking out or the vinyl from touching the floor.
The advantage of this two-layered one is that it provides better insulation and durability and can be used all year long. It is one of the best portable hot tub options for those willing to use it for social and recreational use frequently either for just yourself or for your family and friends.
Plus, they are aesthetically pleasing and come in all shapes, colors, and sizes to fit every space. They are also open plan and feature a control unit that allows for changing the temperature of the water including most of them that have a massage function which creates high pressured bubbles. These are usually a lot easier to assemble than other options which may need a professional service to come to your premises to install it for you.
If you've got an outdoor socket, all you need to do is plug it in and play, and off you go into your very own tropical island experience. Make sure the one you buy has everything you need, and proper maintenance of it is mandatory as well, do not leave it outdoors without covering and proper cleaning will be required regularly too.
Even though they may cost a little extra, you can save a lot of money in the long run from not having to take frequent vacations and breaking the wallet to book accommodations at hotels or renting a car for instance. This is one of those items that will enhance anyone's lifestyle and help them enjoy being indoors, especially during this time when many of us cannot make any travel plans or catch a break in the tropics anytime soon.