When I read about Dehradun, its culture, location, and cuisine really stood out to me. The city was in touch with its roots, located at the foothills of the Himalayan range and boasted some of the best temples and architectural structures in the country.
On a whim, I decided I needed a change of pace from the hustle-bustle and pollution of Delhi and embark on a new experience and it was one that I don't regret! Getting to Dehradun was easy and comfortable – I booked a top-rated Delhi to Dehradun taxi, a feasible yet convenient choice, and we reached in almost 4 hours.
The city of Dehradun had me in awe at how it looked urbanized, yet preserved the antiquity of the city, which added to its appeal. Exploring through different parts of the city took me back and forth in time, while some areas were chock full of malls and duplexes, the others shone with their Buddhist monasteries and street food stalls that made me feel at home.
After checking in and making myself at home, I was ready to spend a busy weekend to explore the top sights of this beautiful city. After availing a Dehradun car hire with an experienced driver to take me around, I set off for the first sight on the itinerary, the much talked about Gucchi Pani!
The mystery of Gucchi Pani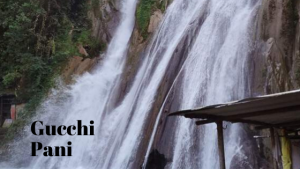 This cave was so talked about, that I simply had to see it for myself. After trekking for 10 minutes, I reached a clearing where the entrance of the cave became visible.
At first, I was intimidated by how the entrance looked narrow and dark, and I had no idea what was approaching at the end of the cave. Luckily, with a few other travel companions, we braved the path of the Cave that was built of limestone, our senses heightened as the gushing streams echoed in the dark.
As we followed the sounds, we finally reached a cold, bubbling stream that looked pristine and clear. While some people took dips in the water, others had brought picnic baskets and seemed to be having a great time in this scenic location. As I walked further ahead, I expected to see more of a trekking trail, but was surprised to find the stream that ended before evolving into a waterfall!
In the scorching heat, I couldn't help but feel tempted to plunge into the cold water springs, as the clear waterfall swooped from above, and so I did! If you love waterfalls but are apprehensive about tourist locations owing to pollution and filth, this is one site that has been maintained extensively, so everything that you see is clean and green!
Luckily shops were available around the cave with ample locations to discard waste, which helped keep the area clean and accessible.
Dehradun's delectable cuisine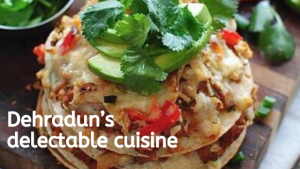 Dehradun didn't have any dearth of diverse restaurants catering to every cuisine in India. Some areas were predominantly reserved for fast food eateries, so I found myself wondering about what Dehradun's cuisine is. After asking around, it quickly became apparent that their local Pahadi cuisine is the taste of the city and the best of it can be found along the stretch of Rajpur road. The several joints along the road had great North Indian, South Indian, and Chinese food, but the best ones had to be their Sidu (roti made from wheat flour) with Pahadi Chaa Gosht, which was a tender and delicious lamb curry that made my mouth water before I could even dig in! For every foodie, Rajpur road is the place to be!
Sahastradara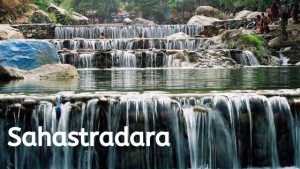 This bounty from Mother Nature was pulsating with positive energy and had a breathtaking view. As its name suggests, the Sahastradhara looked like the converging point of a thousand streams that flowed seamlessly into this water spring.
The landmark has such a spiritual significance and made me feel at peace with my mind. Since the water is said to have medicinal value, I took a dip in the clear water and fell into a tranquil state for several minutes. I stepped out feeling utterly rejuvenated from the experience.
If you have an open mind to embark on new experiences and feelings, the Sahastradhara is the spot for you.
The Great Stupa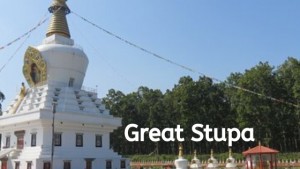 After what was one of the most peaceful and spiritually enriching vacations, I decided to embark on a journey to document the beauty of the city, and there's no place quite like the Great Stupa to help me accomplish that.
It's the largest stupa in the world and has the best aerial view of the entire city.
I almost forgot about generating Instagram content when I stepped foot into this Tibetan temple. It had the most stunning Buddhist statues but the Mindrolling monastery was the main attraction. This monastery had stood the test of time, natural disasters and calamities, and still stood tall as an architectural marvel.
After capturing the perfect timescape of the city, I decided to unwind in the garden below, the supple grass and the surrounding fixtures, paintings and art as an ode to Tibetan culture and heritage really opened my eyes to understanding a new culture and gave me a lot to reflect about my body, mind and soul.
Dehradun is a must-visit city for anyone who has lived in India for a long time and never been. It's nestled in the foothills of the Himalayan range, which is great for trekkers and offers a unique set of experiences that will impress old and young people alike. This journey really rejuvenated not just my body, but my soul, and left me with a lot of reflecting to do about this experience.