Shopping for wedding dresses is the epitome of happiness for many ladies. Not only does it represent the beginning of your union with your significant other, but it also serves as a time to rekindle relationships with friends and family as you prepare for the wedding.
But while it can be a fun and memorable experience, bridal shop hopping can also put a lot of pressure on the bride. You bring friends and family to help you decide, but you end up having to juggle a lot of opinions. In this case, getting advice from different people can be counterproductive because everyone might have a different idea of what your wedding dress should be like.
Focusing on finding "the one" can be difficult, considering all the noise around you. Sometimes, it's impossible to tell someone (nicely) that they don't need to come wedding dress shopping with you because they insist on inviting themselves. Add to that all the other wedding planning decisions you need to make, and you probably end up with a lot of unnecessary stress.
To guide you as you visit several bridal shops, here are seven tell-tale signs that will tell you that the wedding dress you're trying on is the wedding dress of your dreams:
1. You Don't Think About Flaws
One of the clearest signs that you've found the gown you'll be wearing on your big day is when you look at yourself in the mirror without thinking about your personal insecurities.
Just imagine this: You try a dress out, and you don't think that your arms, hips, or waistline look too big or too skinny, or that you look too washed out overall, or anything. You just think, "I look beautiful!"
Making you feel 100 percent confident about how you look is what makes a wedding dress 100 percent perfect. Since you'll be using it on a significant occasion, it should make you feel your absolute best and not direct your attention towards any insecurities. Instead, it should make you think that you have never looked better.
2. You Picture Yourself at Your Wedding
Another telling sign that you've found the dress that will make your dream wedding a reality is that you look forward to wearing it on the actual day of the occasion. When you try out the outfit, you end up picturing yourself having your first dance or walking down the aisle.
Images of the future wedding album will suddenly come flashing through your mind. You'll finally have a clear vision of what you want to look like as you walk towards the love of your life at the end of the aisle.
3. You Don't Want to Try Other Bridal Gowns
There are plenty of bridal shops around town and even more, wedding dresses to choose from, and yet you don't feel like trying on a few more. This is another sign that you've officially gotten hooked on one particular wedding dress.
When you find the perfect bridal gown, you lose interest in shopping for others anymore. You no longer have the desire to try another dress because you've decided – albeit subconsciously – that the gown you're wearing is the last one you'll be putting on.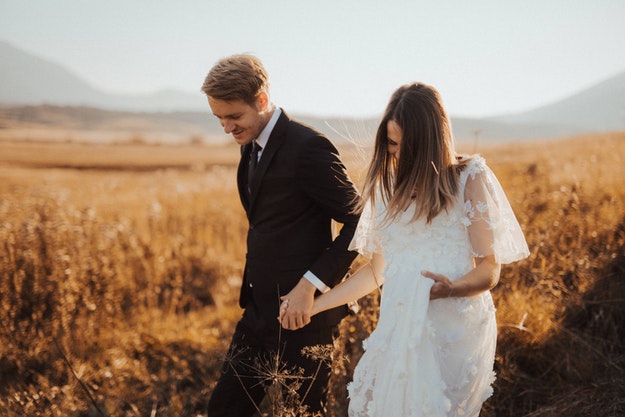 4. It Doesn't Need a Lot of Work
Although alterations aren't a bad thing, having too many issues that need addressing in a gown is a red flag. The dress that is meant to help you achieve the wedding you have long envisioned shouldn't need a lot of work. While small changes to the dress can help make it fit you better, too many drastic alterations may mean that you're better off with a different gown altogether.
5. You're Not Taking It Just Because It's a Good Deal
It's not a sin to try to save on your wedding expenses, but choosing a bridal dress just because it is part of a good deal is a no-go, too. Remember that when shopping for a wedding gown, you should prioritize how you feel when wearing it.
Set aside those frugal feelings and buy a dress that you truly love, even if it costs a tad higher than you normally would care to spend.
6. You Feel Like "You" When You Wear It
Many brides feel the pressure of picking a bridal dress that family and friends want them to wear, but this shouldn't be the case. The truth is that the wedding dress you'll consider as "the one" is something that helps you feel like "you."
Trends and other people's opinions aside, your wedding gown should be something you feel comfortable in. It should help your confidence shine through. After all, confidence is what makes most brides look absolutely radiant on their special day.
7. It Fits Your Body Well
Everybody is different, which is why you should be honest with yourself and pick a dress that showcases what makes you unique. The key to achieving this is to pick a bridal dress that works well for the type of body you have.
Knowing your body type is one of the quickest ways to narrow down your options. When choosing a dress, you must find a silhouette that will bring focus on your favorite assets – whether it's your neckline, your shoulders, or your hips – and conceal those you deem less appealing.
Aside from actually trying out the dress, you can learn what works for you with the following recommendations according to your body type:
●  Petite
Petite brides have a small build, so they must avoid dresses that tend to overwhelm. Instead of large, frothy ball gowns, they should go with trumpet-style structures and airy sheaths. Form-fitting shells covered by a gossamer tulle skirt also work to create a more voluminous silhouette.
Still, the best way to go is to stick with simple and minimalistic dresses. Substantial straps on gowns with a plunging V-neckline point to a good choice since these elongate your frame by drawing the eye upward.
Similarly, a dress with an empire waistline or high-low hemlines creates the illusion of long legs. A mermaid silhouette with a dropped waistline isn't a bad choice either, as long as you stick to more structured skirts rather than wide, poufy ones.
● Plus Size
Being plus-sized doesn't mean you cannot look sexy. From creating an illusion of a smaller frame to highlighting the curvature of your body, choosing the right bridal dress will do it for you.
Choose a wedding gown with an empire waistline to achieve a lengthening effect. Combine that with a pair of fluttery chiffon sleeves to cover up some skin. You can also choose a dress with a lace illusion neckline to achieve a daring and demure aesthetic while creating a slimming look with a cummerbund-style waistline.
You can also make your waistline look smaller with design features that draw the eye inward, as with bodycon seams with crystals. When combined with a sheath silhouette, high neckline, and slight train, you can achieve a long and lean look.
Find "The One"
Finding that one dress that makes you forget all the rest takes time and effort, but it will be worth it. Look out for these signs and enjoy your wedding day wearing the perfect dress that shouts, "I am who I am."