New Mexico is a beautiful state with a lot of attractions, culture, history and art.  Tourists come from all over the country and even the world to experience its beauty and cultural richness. Families might travel there to chase down UFOs, absorb Native American culture, or enjoy the outdoors.
There are so many places to see either for a decent price or for free! Below are a couple of places we recommend when seeing New Mexico even if you are on a budget:
New Mexico has some of the country's oldest churches, some dating as far back as the 16th century. The craftful artwork and stained glass and the Spanish-style architecture of these churches can be explored for free. Be sure to pay your respects and be mindful of worship (try not to go during mass unless you plan to attend). Some of the most famous include the Cathedral Basilica of St. Francis of Assisi and the San Miguel Mission, both in Santa Fe.
The Albuquerque shopping district of Nob Hill is full of novel shops, quirky restaurants, and festive shows. For free, there is a lot to look at if one likes window shopping at art and clothing boutiques, as well as live music to listen and dance to. Food trucks, cafes, bars and shopping all cost extra, but spending the day without spending money in this historic district is easy and fun. Families can explore the colorful and unique neighborhood without paying anything.
No visit to New Mexico would be complete without cruising this famous road. Although it was replaced by Interstate 40, many of the points along the route, such as Albuquerque and Santa Fe, have preserved the historic neighborhoods that were once the center of travel from Chicago to Los Angeles. While Route 66 has appeal to Baby Boomers who remember the television show and the song, it has also grown with the times, with attractions for all ages. Art, culture, and history can be found at all the sites, and many locations do not charge admission or have "free" days periodically.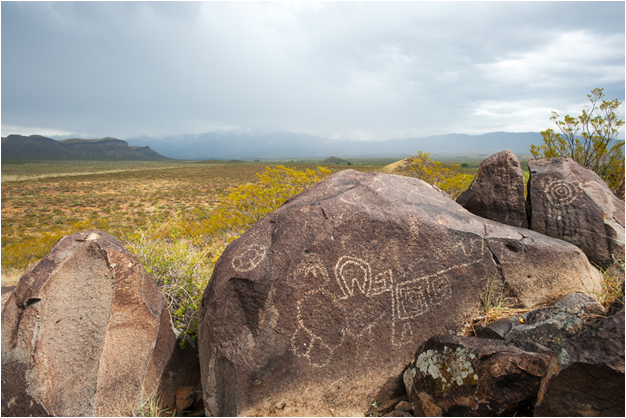 New Mexico has art and history museums like everyone else, but they also have museums that are uniquely New Mexico. The National Hispanic Cultural Center and the Indian Pueblo Cultural Center hold free events celebrating the cultures they represent, while the National Atomic Museum allows kids in for free to learn about the history of the atom bomb. UFO enthusiasts can also find plenty of free exhibits, especially as one gets closer to Roswell.
Petroglyph National Monument
For those who prefer their history outdoors, New Mexico is a land of natural beauty blended with pre-Columbian wonder. The Petroglyph National Monument preserves the rock paintings of the ancestors of the Pueblo nation. Families can picnic, hike, and view this important piece of history for just a small parking fee. Leave the car behind and take a day to enjoy picturesque views and Native American art. There are other petroglyph sites all over New Mexico, which also have free admission in general or periodically.
No matter your New Mexico adventure, there are plenty of free things to do! Not having money does not have to mean not having fun that the whole family can enjoy. Even if you are on a budget or had an emergency while travelling, you can still have a great New Mexico vacation!