Advertisement is meant to reach individuals and a seller will have to require spending on ads. Be it is conventional selling or emerging online e-commerce selling. The mode of advertisement will however vary from platform to platform. A range of ads will be tried in different ways to reach the audience. Every different type of ad will ask for a different level of investment while people will yield different results as well. A text ad will always be less costly but it will also yield a little less reach. Similarly, a print ad coupled with a few more snaps and useful sentences will take more space but will prove more effective at the same time. the recent advertisement trends are however the video ad. You would love to use it for the proper engagement and reach.
Amazon has also rolled out its much-awaited video advertisement program. It allows sellers to create a video for a better reach and the best engagement. It is up to the sellers now, how they can make good use of this offer. It is easier to try and can yield some wonderful results to Amazon sellers.
What is a Sponsored Brand Video Ad?
A sponsored brand video ad is a part of the sponsored brand ad with video added as an addition to the existing line. The video ad program was primarily launched by Amazon in 2020 but it has continued to impress many sellers and buyers in 2021. The sellers that are registered in amazon's brand registry program can use this program. It is a good option to use for entities that are registered with the brand registry program. You can also try it as your competitor may have not registered with the registry program yet. It will provide an effective reach and even better engagement.
One can present one's brand in the best possible way by using the allowed video length. It works automatically and is a little difficult to miss for the viewers. Since it is displayed in the middle of the page hence a viewer will always take a look at it while scrolling through the useful information. A good Amazon agency can help you master the skills necessary for perfect sponsored video ads.
How Do Sponsored Brand Ads Work?
These are a kind of PPC ads that work very much like sponsored product ads and sponsored display ads. Everything works under the umbrella of sponsored ads and is meant to promote brands effectively on Amazon. Just like all other forms of PPC ads, the sponsored video ads are also used to gain impressions. But they have to be precise and to the point to make things happen. Amazon will only allow 30 seconds for your sponsored video ad. And, you need to explain in the first ten seconds how your product will effectively serve a specific need.
It is good to search and follow Amazon's guidelines regarding sponsored video ads. It will let you create some outstanding and on spot. Being not in class with the video content policy means you are all set to work.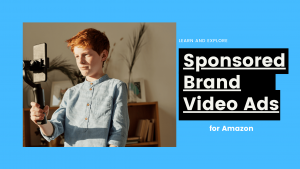 Best Practices for Product Videos
Create The Demonstrative and Educational Content
A few people may recommend you to create some eye-catching videos by adding some vibrant colors. People might just suggest the eye-catching background but it is not the graphics that matter in a video ad. It is how explicitly you can demonstrate your product. A video is of no use if it fails to educate the viewer about the product and its associated pros. Yes, you can discuss cons as well but only when it is vital. You should try to utilize the 30 seconds for the promotion and the engagement. And, that will only happen when you will be creating demonstrative and educational content.
Keep Your Product in Focus
Remember, it is always useless to talk about the industry when you have only 30 seconds to talk about what you are doing in the industry. Hence, prefer talking about the product you are trying to promote or sell. You should try to use every second of the video to tell about your product and its features. It is the only way forward for you as a seller on Amazon. You cannot just afford to waste money on irrelevant ads.
Try To Sum Up In A Few Seconds
You cannot even go beyond thirty seconds but that does not mean you should not tell your viewers about anything before 25 seconds. It is good to introduce the product and its features in the first few seconds. And it is even vital, to sum up quickly. You can try writing content for your video and can try a few takes before finalizing things. Practicing will allow you more control and will make good use of the spent money.
Optimize Video for No Sound
The sponsored video ads are bound to play on their own but a lot of viewers are likely to mute the video. This is why you need to optimize it for no sound. You can add infographics to the video as it proceeds. Adding content on display ads will make them look even effective as viewers are not likely to miss your message in that case.
Skip The Fancy Intro
A few developers might just suggest you add some interesting effects. But adding effects will only make your viewer lose interest in such a short video ad. It is therefore always good to create formal videos instead of developing fancy ones.
Create Looping Videos
Looping videos will provide you more time for remaining in touch with the viewer. A customer will be able to view it once more if it is given the looping effect.
Are Sponsored Brand Video Ads a Productive Option?
Well, it depends on what you are selling as a brand and how you are going to use the video ads. One can make good use of this space by trying and testing it at least once during the PPC campaigns.